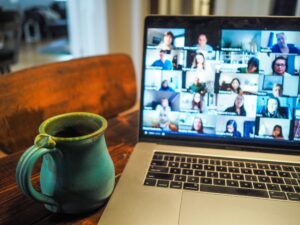 Hosting a course over a virtual platform like Zoom can be an effective way to engage with your students and create meaningful learning discussions. Meetings conducted virtually, however, can be vulnerable to unwelcome visitors that could distract your lesson or compromise student privacy. Learn the best methods to keep your virtual classroom secure from these uninvited guests below. 
Practice Confidentiality
Platforms like Zoom offer several customizable features to ensure your meetings are secure and safe from attack, no matter where you are conducting your session. Despite these features, it is always best to continually practice confidentiality to ensure your data stays secure.
Limit Data Sharing on Social Media
Social Platforms like Facebook are great spaces to set up informal study groups, but it is important to limit the sharing of course data, such as meeting IDs and password information, on these sites—or with friends and family.
Secure Your Connection with a VPN
Conducting a meeting over a public internet connection without security can lead to stolen data or compromised security. When possible, utilize a Virtual Private Network (VPN) to secure your internet connection and prevent breaches from hackers. 
Get a Head Start By Using Meeting Controls
Take control of your security before your class even starts with Zoom's Meeting Controls. 
Waiting Rooms: Utilize this feature to prevent participants from joining a meeting until the host is ready to start. Meeting Hosts can admit those currently within the Waiting Room—either all at once or individually—to ensure that only those who are supposed to be in the meeting are allowed in. 
Meeting Locks: Choose to lock your meetings once they start so that uninvited visitors are blocked from entering mid-meeting. 
Manage Participant Permissions: Sometimes, less is more! Take advantage of chat, mic, and screen sharing permissions to ensure that those who are not authorized to cannot send or share information that could distract from the meeting. Alternatively, limiting participants' ability to invite others to a meeting could help curb unintended visitors from joining the session. 
Zoom is a platform perfect for keeping your group communication safe and secure. At Create Connections Inc. take advantage of our discounted rates and learn how we can help you improve collaboration and communication through virtual meetings—check out our website.