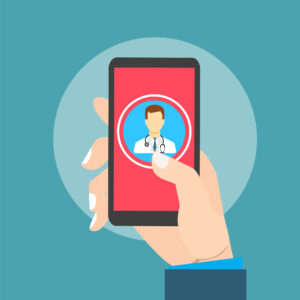 The global telehealth and telemedicine industry is experiencing a boom right now. It is expected to reach over USD 190 billion in 2025—a significant increase from nearly USD 40 billion in 2020. This growth is due to a variety of factors, including a rising population, a lower number of available physicians, and increased awareness of telehealth services.
During the COVID-19 pandemic, many individuals turned to telehealth solutions in an effort to maintain social distancing and avoid in-person healthcare visits. Telehealth usage spiked, with 78x more patient interactions taking place via telehealth in April 2020 when compared to February that same year. And although the in-person risks associated with the pandemic have decreased, at least 40% of patients have expressed a desire to continue utilizing telehealth services in the future.
Read on to learn more about how the telecommunications industry is shaping healthcare and how Create Connections, Inc. can help.
Increased Access to Patient Care
There are over 6000 hospitals across the United States. And while it might seem like there is a hospital on every corner in some areas, only 1805 hospitals are considered "rural" leaving many patients struggling to access healthcare services, especially specialist care.
Telehealth solutions help ensure that everyone has access to the care they need. Video conferencing allows patients and physicians to meet for virtual appointments, while patient portal systems provide individuals with a single point of communication. This increased access provides patients with a higher standard of care and better quality of life.
Contact Center as a Service (CCaaS) solutions help streamline incoming patient communication. This gives hospitals and healthcare facilities an easy way to monitor and manage their system, ensuring that no patient falls through the cracks.
Increased Communication Between Physicians
Patient care is often not a one-on-one process. While most individuals have a primary care physician or general practitioner that they see regularly, specialized or urgent care may be required for some conditions. Physicians and healthcare practitioners need to be able to effectively communicate with one another.
Similar to CCaaS systems, Unified Communications as a Service (UCaaS) solutions can provide healthcare professionals with effective internal communication systems. UCaaS systems allow physicians to communicate across their network from any device, making it easy for them to stay in touch and up to date while they are on the go.
At Create Connections, Inc., we proudly provide telecommunication, Cloud computing, network solutions—and so much more!—to businesses across a wide variety of verticals, including healthcare. We know that telehealth solutions are the future of the healthcare industry. Visit our website or email us at connect@us-cci.com to learn more about the services and solutions we provide, including how they can help bring your business into the digital age!